Chris Farrar- Apple and PC tech, I.T. Specialist, Service Manager
I have been messing around with phones and computers as long as I can remember, and have been doing so professionally for a long time. Before Mactek I owned another computer/phone repair business as well as did IT work for a large media production company. I do everything from hands on repairs to networking and love learning new things.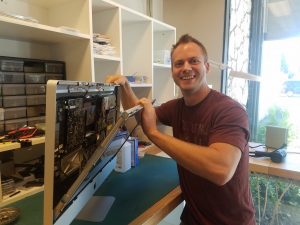 Stephen Patterson – Apple Certified Mac Technician & PC Technician
I was born and raised in Oregon and moved to Central Oregon in 2003. I've been working, not playing, with computers since I was just 9-years-old – from the Tandy 1000, 8086 and beginnings of AMD K –series and Intel Pentium series. Building and tweaking PCs were my version of playing with Lego's
In 2008, I became an Apple Certified Macintosh Technician (ACMT). I enjoy the outdoors, bicycling, hiking, camping, archery, shooting, driving, building custom PCs. I have two little boys: Mason & Brody.