The Best iPhone Repair In Central Oregon!
For a high quality repair, every time, go to the iPhone Professor.
We take the time to make sure your device functions properly. We are meticulous with our work, and strive for our customers happiness.

Our #1 goal is your happiness. We want to give you fast, friendly service with parts that last. We have a mix of genuine OEM and aftermarket parts for a variety of fixes we can do. Most services can be completed in an hour. While you wait, we have a lounge where you can view our phones and computers for sale. 
100% Customer Focused!

30 Day Warranty - LCD Screens
Fix My iPhone Screen!
HANDS DOWN – The best quality LCD replacements in Bend and all of Central Oregon. 
Our iPhone LCD screen replacements come with a 30 day warranty. We fully back the functionality, usability and brightness of each screen. If you notice any issues within the first 30 days of your replacement screen, bring it back to us so we can check it out. Typically iPhone screen replacements are done in an hour or less! We also replace iPads, MacBooks, and more!

30 Day Warranty - Batteries
Want battery life from your iPhone like when it was new? 
It's less expensive than you think. 
We use quality replacements to get you the best usability, and we can replace most batteries in 30-minutes or less. Each battery, and our service work, comes with a 30 day guarantee/warranty. 
Refresh your phone and get the battery life like it's new!
We Partnered with MacTek - Bend's #1 Computer Repair and Training Center

Mactek has been working on computers, networks, and IT services for over 12 years. Bend locals!
Together, The iPhone Professor and Mactek will gladly help you with all technical needs. 
Our friendly technicians are ready to help you!
The iPhone Professor has serviced Bend, Redmond, Sisters, and the surrounding areas for 10+ years. 
Our #1 goal is to make your use of technology care free. We want you to get back to what really matters!
Not only can we fix your broken phone, computer, or tablet but we can teach you how to use it too!
Computer &, Phone Repair, Business and In-Home IT, Tutoring and Training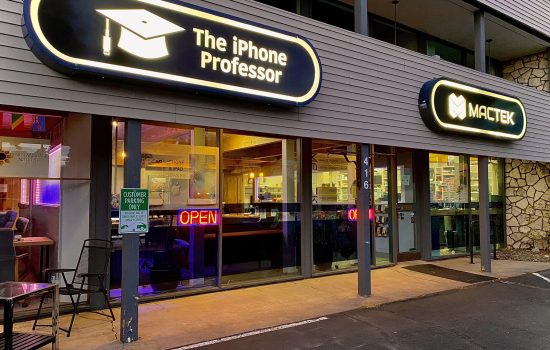 iPhone repair by The iPhone Professor. We offer professional iPhone Repair in Bend, Oregon.
We also have a 30 day warranty on all iPhone screen replacements.
Additionally, iPhone repairs are completed in an hour or less by a professional technician for same day iPhone Repair!
Professional work Guaranteed!

 The iPhone Professor also does computer repair.
We work on Apple computers such as MacBook Pro, MacBook Air, iMac, and more.
As a result of a new partnership with Mactek, Bend's best rated computer repair store, we now offer fast quality computer repair.
Come see The iPhone Professor for all of your technical needs.
Happy Customers - Check out reviews below!
I shattered my screen on my iPhone 10.... I didn't make an appointment I just walked in at 12pm on a Monday. I was promptly greeted by a very friendly and professional receptionist (red hair... unfortunately I didn't grab her name). She gave me 3 different pricing options and shared why she would choose one over the other. An hour later I had my phone in hand and ended up saving myself $75 compared to my deductible with Sprint AND a week wait for a new phone. My grandma passed away 2 days ago and I was desperate to get to videos and pictures on my phone. I highly recommend this company!
I have been using the iPhone Professor for my family's iPhone and Mac needs for the last two years. We initially tried other iPhone specialist but the iPhone Professor is by far and away the most professional of them all. The techs are top notch, the reception staff is kind, and the service and prices are almost too good to be true. With quality this good and prices this competitive there is no where else we will ever go. Please consider giving them you business so that we can keep them as our go-to Apple support for our Bend community.